http://infidels.org/library/modern/ken_daniels/why.html
Home
»
Library
»
Modern
»
Ken Daniels
» Why I Believed: Reflections of a Former Missionary
---
Why I Believed: Reflections of a Former Missionary (2009)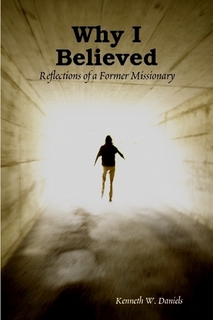 Kenneth W. Daniels (1968-), former evangelical missionary with Wycliffe Bible Translators, received his BS in computer science and engineering from LeTourneau University, Longview, Texas, and a one-year certificate in biblical studies from Columbia Biblical Seminary (now Columbia International University), Columbia, SC. He currently resides with his wife and three children in suburban Dallas, TX, where he works as a software developer.
PUBLISHED BY
Kenneth W. Daniels and the Secular Web
Copyright © 2009 by Kenneth W. Daniels and the Secular Web
All Rights Reserved. Published 2009
This publication may not be reproduced, stored in a retrieval system, or transmitted in whole or in part, in any form or by any means, electronic, mechanical, photocopying, recording, or otherwise, without the prior written permission of Kenneth W. Daniels and the Secular Web.
Contents
Part I: Foundations
My purpose for writing
My approach to my readers
Two kinds of believers
A look ahead
Introduction to my story
Life as an evangelical Christian
Life as a nonbeliever
The influence of other believers
The design of the universe and of life
The superiority of Christianity over other worldviews
The foundations of morality
Purpose and meaning
Fulfilled prophecies
The Resurrection of Jesus
The reliability of the Bible
Miracles and answered prayer
A personal relationship with a loving, almighty God
The sum of all fears and costs
Psychological inertia
Accident of birth, benefit of doubt (ABBOD)
The virtue of faith
Sanctified exceptionalism
Good and bad
Focus on the flaws of the foes of the faith
Insulation
The big stick
The ease and security of a package
A set-apart identity
Moderation inoculation
But what about you now, Ken?
Part II: My Reasons for Believing: A Critique
Exemplary believers
The myth of individual faith
Accident of birth, benefit of doubt (ABBOD reprise)
Tradition and authority
Fear of others' reactions
Christian fellowship
Suspicion of the scientific establishment
Excursus: the age of the earth
Evolution
Naturalism versus supernaturalism
The origin of the universe
The origin of God
Deformed to fit
The numbers game
Deism
Conclusion
A typical discussion
The limitations of faith-based morality
Not perfect, just forgiven
Anthropocentrism
Mortality and meaninglessness
Prophetic presuppositions
The "seventy weeks" of Daniel 9
Jesus' failed prophecy
The apologetic stance
Presuppositions
The location of Jesus' post-Resurrection appearances
Arguments for the Resurrection
The unity of the Bible
The integrity and trustworthiness of the biblical authors
The archaeological confirmation of the scriptures
The beauty and wisdom of the gospel
Miracles
Answered prayer
Excursus: the possibility of losing one's relationship with God
Marriage to Jesus
The Bible and Jesus as personal savior
The reality of a personal relationship
God's power and love
Pascal's Wager
Appeasing
Defenses of the doctrine of hell
Are you happier now than before?
Have your morals changed?
Do you ever doubt your doubts?
Do you ever feel guilty about your decision?
How do you relate to your wife and family?
Parting thoughts
Foreword by Guy P. Harrison